We Focus on Growing your Business, Not just rankings!
How we are different from rest of the crowd.
Search Engine Marketing has become necessary in lead generation for businesses in today's economy. The more exposure your business has the more sales you will make. We are experts in ensuring you are being seen online and that you are being seen by the right customers.
We carefully plan and execute the correct strategy to grow your business.
One shoe size does not fit all feet so why would one strategy suit all business? The Answer is it wouldn't and that is why we ensure the best fit strategy for your business.
Based on the sunny Gold Coast Australia, LeadHub is a collective of online professionals that take pride in helping your business grow. Our team is skilled in all aspects of Lead Generation, Online Marketing, SEO, Business development, Web Design and Graphic Design.
No matter what the request, We have someone in-house that can cater to digital needs.
From the moment you engage with LeadHub we will ensure the process is professional and streamlined. Our strategies and costs are fully transparent so you always know where you stand.
We are happy to grant access to you PPC campaigns unlike other agencies that keep you in the dark.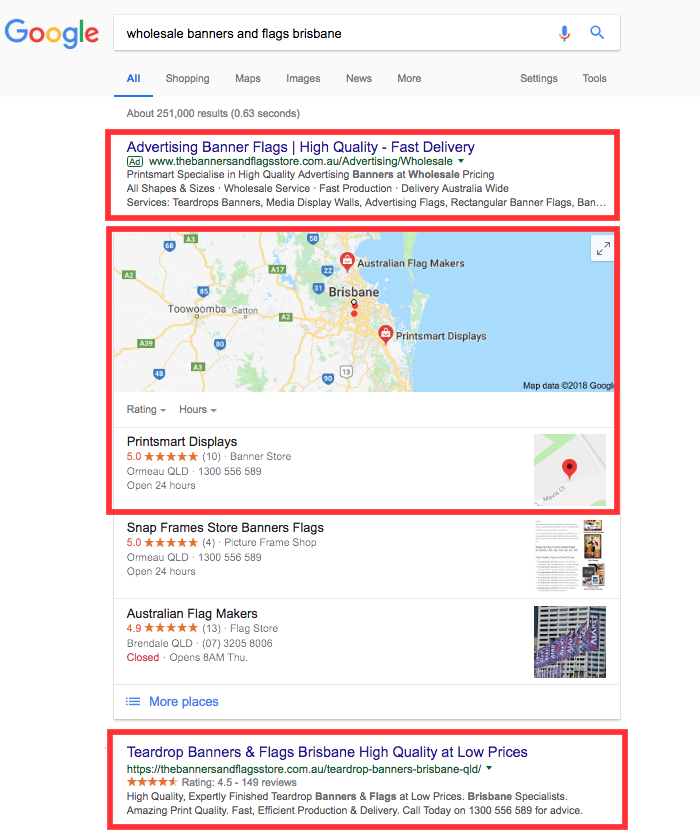 Dominating the Front Page with the number 1 position in Organic (SEO), Adwords and Google My Business (Maps)
The Banners & Flags store had come to LeadHub and wanted to ensure there was nothing left on the table for the competitors in their highly competitive & valuable wholesale industry.
After discussions we had constructed a strategy that would have them in pole position for SEO, Adwords and GMB – Google Maps listing.
The Banners and Flags store has seen an incredible increase in high value wholesale leads for their printing business located on the Southside of Brisbane.
As mobile search continues to rise and will soon overtake desktop as the main device used, it is essential that you are visible on all 3 Google search funnels.
Do not leave it any longer and let your competiorrs contune to take money from under your nose!
Get in touch with LeadHub now to see how you can crush your indutry and become the authority figure!